Getaways from Bagdogra Airport to Most Astonishing Places in North Bengal
'It is better to explore the beauty of the same place once than hear about it a thousand times'.
North Bengal-'Holds the Traditions of Bengali'
North Bengal boasts most magnificent mountain panoramas, as well as a number of India's most attractive hill stations. It is truly a treasure hunt for the nature lovers who are looking for an escape from the hectic chores of the modern city life.
Bagdogra Airport at a Glance!!
Bagdogra Airport is the second airport in North Bengal and is about 16kms away from Siliguri Town. It is the nearest major airport to visit its nearby destinations like Darjeeling, Sikkim, and Dooars. Bagdogra Airport is connected to the national as well as international airports in the world. You can opt for several car rental services at Bagdogra Airport to tour the whole of North Bengal.
Enchanting Places in North Bengal You Should Not Miss!!
There are lots of places to see in North Bengal, such as-
1.  Kurseong- 'The place of White Orchids'
Kurseong, beauty of nature pic.twitter.com/I30hGrDvsT

— uttam roy (@uttamro63298475) October 9, 2018
Located at an altitude of 4,860 ft above sea level, Kurseong is an iconic hill station in North Bengal. Covering almost 5 sq. km and having pleasant climate throughout the year makes Kurseong an attractive destination for tourists.
Major Attractions
Eagle's Crag
Dow Hill
Mary's Hill
Ambotika Shiva Mandir & Gidhapahar Mandir
Kettle Valley Picnic Spot
Distance from Bagdogra Airport- 41.6km
2. Darjeeling- 'Jewel of North Bengal'
Away from all negativities and frustration in life. #darjeeling #India #calm #beauty #nature #fun #friends #trekking #travel #adventure #hills pic.twitter.com/oJCkxO9Sgd

— Vaishali Sahu (@vaishalisahu96) October 18, 2018
Perched at an elevation of 2134mt Darjeeling is an ideal destination to fulfill the desires of holiday lovers. Decked in snowy mountains and lush green tea garden, Darjeeling will surely blow your mind.
Major Attractions
Tiger Hill
Batasia Loop
Darjeeling Mall
Rock Garden
Darjeeling Ropeway
Japanese Temple and Peace Pagoda
Distance from Bagdogra Airport- 69.8km
Rent a car in Bagdogra Airport to get the beautiful glimpse of Darjeeling.
 3.  Chalsa-'Queen of Dooars'
And these! 😀
Long net stinkhorn#monsoonmemories #Chalsa #NorthBengal #Dooars pic.twitter.com/rGzGMmHvwA

— Pramita (@PamsRulezz) July 14, 2016
Located at an elevation of 163m, Chalsa is one of the most visually attractive destinations of North Bengal. The scenic beauty of Chalsa makes this place as a famous picnic spot in Dooars. A variety of flora & orchids are also available in Chalsa.
Major Attractions
Wildlife Animals
Exotic Birds
Colorful Flowers
Dense Forest
Distance from Bagdogra Airport- 78.6km
4. Kalimpong-'Abode of Serenity'
#gaddikhan.. And the road leading to #lamahatta #peshok #teesta #kalimpong
And #gangtok..
As seen from #tigerhill..#darjeeling #himalayas pic.twitter.com/bwRP5f0y5m

— 🇮🇳♓E®️E✝️ℹ️©™ (@Bohemian_6) October 23, 2018
Away from the rush of the metropolitan cities relishing the feeling of being caught in the chills of Himalayas, one can have a pleasurable stay in Kalimpong hill station. Nature welcomes everyone on Kalimpong tour for an exciting experience.
Major Attractions
Catholic Church
Relli River
Theresa Church
Samthar Plateau
Zong Dog Palri Fo Brang Gompa
Distance from Bagdogra Airport- 78 km
 5. Gangtok-'Quaint Capital of Sikkim'
Snow-capped mountains, glacial lakes, and tranquil monasteries define the beauty of Gangtok. It attracts uncountable tourists every year. It is an ideal place for those who are hunting for immense quiet and solitude, away from the humdrum of a chaotic city.
Major Attractions
Rumtek Monastery
Hanuman Tok
Flower Exhibition Centre
Himalayan Zoological Park
G Marg
Distance from Bagdogra Airport– 125 km
You will get several taxi services from Bagdogra Airport to Gangtok at a reasonable price.
 6. Pelling-'A town with Mesmerizing beauty'
Highlight of my trip to West Sikkim. #home #sunset #pelling pic.twitter.com/o2UP42qU2e

— Kunzang Ongmu Bhutia (@kunzang02) October 24, 2017
Nestled in nature's lap, in West of Sikkim, Pelling is famous for its splendid views of the majestic Khangchendzonga peak. Located at an altitude of 6800ft. Pelling is a natural paradise indeed for nature lovers.
Major Attractions
Kanchenjunga Waterfalls
Khecheopalri Lake
Darap Village
Kanchenjunga National Park
 Distance from Bagdogra Airport– 142km
 7. Murti-'Dooar's Most Valuable Gemstone'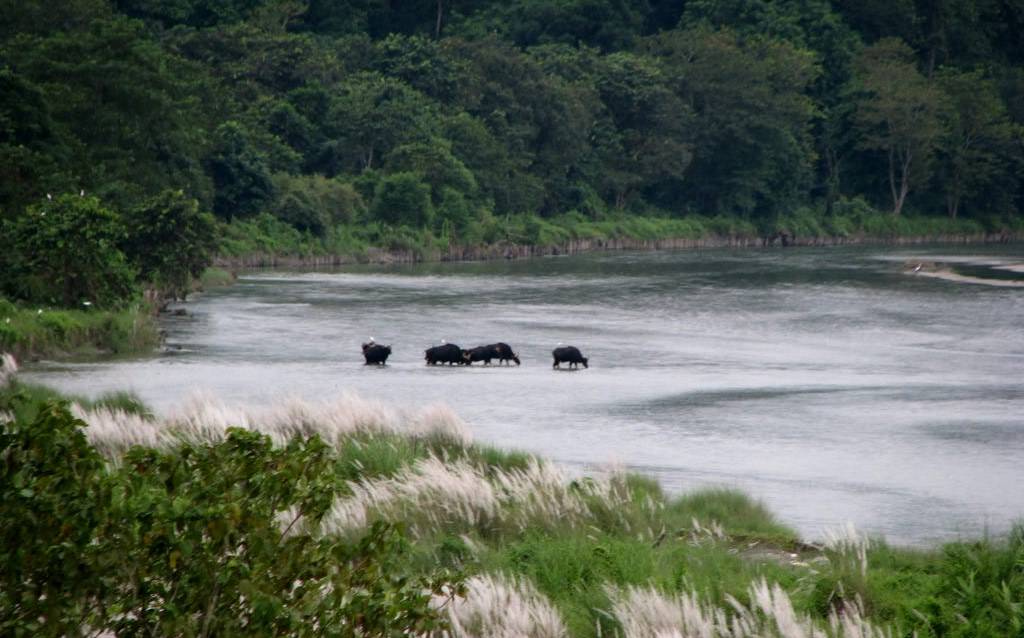 Murti, a small town of Dooars, is a picturesque location with a vast expanse of tea gardens. Nestled beside the river of the same name, Murti is an iconic tourist hotspot along with alluring ambiance.
Major Attractions
Gorumara National Park
Chapramari Wildlife Sanctuary
Panjhora River
Distance from Bagdogra Airport– 86.5km
 8. Jhalong- 'Offers a glimpse of Heaven'
@TourismBengal #BengalBeckons #ExperienceBengal #BeautifulBengal #TravelBengal #TourismBengal #GoBengal #NorthBengal #TTOT #Wanderlust #travel #travelblogger #travelblog #Dooars #Jhalong #Jhallong #Jholung #Camping #RiverCamp #Nature #NaturalBeauty https://t.co/fwCFqBoeQM

— Krishnandu Sarkar (@Krishnandu) June 4, 2018
Jhalong is another famous tourist destination in Dooars. Sited along the riverside of Jaldhaka, Jhalong with its pictorial views and tranquil ambiance attracts many visitors traveling to Dooars.
Major Attractions
Jhalong Bird Sanctuary
Jhalong River
Distance from Bagdogra Airport– 110km
9. Bindu -'A hidden gem Of Dooars'
On the way to Bindu, Dooars #India My #photography pic.twitter.com/GCaI9EE593

— Ranjana Sengupta (@ranjana_tweets) May 19, 2017
Perched at an elevation of 2,000 ft, Bindu is a quaint hamlet of Dooars which is famous for its cardamom plantations in North Bengal & Dooars region. Situated on the India-Bhutan border, Bindu is also the last village of West Bengal.
Major Attractions
Godak Valley
Dhuley Forest
Dalgaon Village
Distance from Bagdogra Airport– 118km
 10. Mirik-'Hamlet of Eye-Catching Beauty'
#mirik #thurboteagarden #darjeeling #himalayas
Serpentine himalayan roads… Take me away… pic.twitter.com/EaicM9cO3h

— 🇮🇳♓E®️E✝️ℹ️©™ (@Bohemian_6) October 22, 2018
Mirik is one of the most charming locations of North Bengal after Darjeeling. Nestled in the heart of lavishing hills, Mirik has developed as a popular among tourists with a glittering lake traversing through the town.
Major Attractions
Sumendu Lake
Don Bosco Church
Bokar Monastery
Orange Orchards
Tingling View Point
Distance from Bagdogra Airport- 47.3km
Avail car rental service in Bagdogra Airport to get a marvelous charm of North Bengal for an unforgettable experience.
 Popular FAQs-
Q. What are the best adventure sports in Gangtok?
A. The best adventure sports in Gangtok are Paragliding, Yak Safari, River Rafting, Ropeway Cable-Car Ride etc.
Q. What are the best hotels to stay in Darjeeling?
A. The most comfortable hotels to stay in Darjeeling are Sinclairs, MAYFAIR, Dekeling Hotel etc.